Welcome to the American Landlord Insurance Information page where you can find answers to commonly asked questions about how landlord insurance works.
WHAT IS LANDLORD INSURANCE?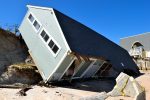 Landlord insurance is intended to help a rental property owner minimize various types of financial losses relating to accidents, damages, and injuries. This type of insurance is classed into two types of coverage. The first covers the dwelling (or structure) while the second covers the landlord's liability should there be an accident on the premises.
Learn the difference: Homeowners insurance vs landlord insurance.
Landlord Insurance Coverage
Landlord Insurance Videos
Updating…